Our mission
---
ENJOY your ride
Lucky Bird Bikes is a friendly bike shop for everyone, specialised in commuting, traveling and city bikes. Our mission is to get more people to drop their car for a bicycle, and to help more people experience that riding a bike can (and should) be fun. We help you to turn your daily ride into quality time!
Cycling is FREEDOM
We think nothing gives more freedom than riding a bicycle. To be free to go wherever you like, anytime. Being free from traffic jams, free from paying expensive bus or parking tickets and free to choose between a relaxed ride or an intensive sprint, whatever is your best way to release all stress of the daily life.
We love sport bikes as well, but our commitment focuses on fully equipped bicycles for use in the real world. No matter if you want a bicycle for occasional use in the city, plan to commute 30 km per day all year round or plan to bike to New Zealand: with over 25 years of experience, we are confident promising that we can help you finding your perfect bicycle choice!
Our core values
Professional and honest advice
We want to make sure your expectations are met, and that every moment on your new bicycle will quality time for yourself.
We only sell bicycles of high quality
Better for you and the environment!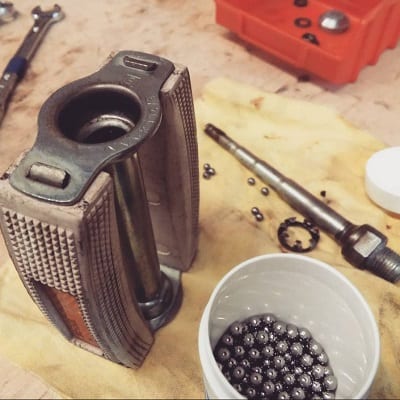 Top-level after-sales service
We do everything to make sure your bike will be riding for many, many years to come!
Green, greener, greenest
No means of transportation is greener than a bicycle. For the production of bicycles, relatively little energy and raw materials are needed and most of the parts can be recycled well. That doesn't mean there isn't any space for improvement.
For example, when possible we still prefer to fix broken tubes rather than replacing them. Bicycle workshops are throwing away tens of kilo's of used bicycle tubes each year. Replacing a tube is easier and quicker than patching it, but that doesn't mean it's obligatory. We only use high-quality tubes, which have advantages in use but are also more durable.
Bicycles, especially chains, require oil or wax for lubrication and protection. Unfortunately many of those oils are not biodegradable (even though the label might say so) and may even contain poisonous substances such as PFOA/PTFE (teflon). Since 2020 we are switching to 100% biodegradable oil from a small UK company called Green Oil. After all, every drop you put on the chain, will drain down with the ground water. In general, we use chemicals such as degreasers very sparingly.