Velo de Ville
---
Uniquely versatile
Everyone is different and has their own wishes, favourite colour and special style – that's what makes life and interacting with others exciting in our eyes. Why should your bike not reflect your individuality too? Velo de Ville champions the idea that bikes should be just as individual as their owners. That is why all of our bikes are configured for you personally. You choose your favourite colour, the suitable frame design as well as many other components so that the bike is created exactly according to your requirements. With Velo de Ville, you get a made-to-measure bike tailored to your needs and personal taste.
Passionate and experienced
For more than 50 years, we have been passionately developing and producing bikes. Extensive experience has enabled us to continually improve our quality and develop new models, functions and designs. Our family-run business has kept on growing and now employs over 150 people who share your, and our, passion for bikes. Enjoying what we do is particularly important to us because it is the basic requirement in terms of making high-quality products. Furthermore, our employees' ideas and experiences play a particularly valuable role in making the production of our bikes even better.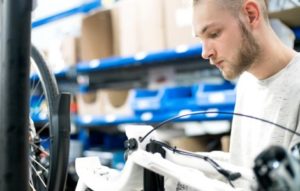 Full responsibility
The integration of people from disadvantaged backgrounds into society is an area of particular concern for us. Consequently, we employ many people with physical or mental disabilities as part of our production team and in our workshop. Furthermore, we support these people in their personal and professional development with special measures. For example, we have established an integration department, which is a good starting point in terms of demonstrating our commitment to the cause. This is supported by the regional authority (Landschaftsverband Westfalen-Lippe) and the Westphalia Integration Office.
---