With your dog in every adventure!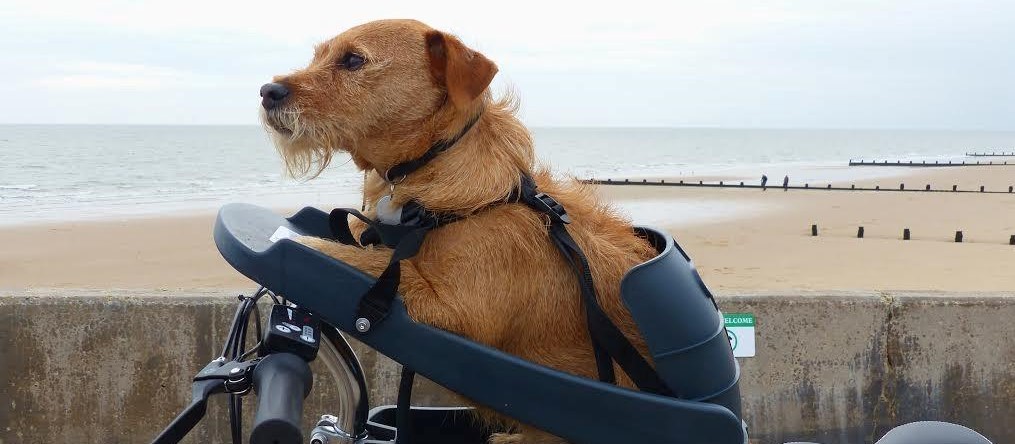 Take Your Buddy On a Ride
Buddyrider-koiranistuin on hauska tapa tuoda lemmikkisi mukaan pyöräajelulle. Toisin kuin muut markkinoilla olevat lemmikkien peräkärryt tai etukorit, Buddyrider-The Buddyrider Bicycle Pet Seat is a fun way to safely take your dog along with you on a bike ride. Unlike other bicycle dog carriers on the market such as a front basket or a rear trailer, Buddyrider is mounted over the frame of the bike so the extra weight has virtually no effect on handling. Your dog is sitting almost on your lap, so you can enjoy the ride together and easily reach even farther dog trails and parks . For larger breeds go for a dog trailer, but for smaller dogs weighing up to 11,5 kg there is no better alternative than the Buddyrider!
Ease and Safety
The buddyrider Bicycle Pet Seat is mounted on the seat post of the bicycle by a metal receiver post, so it fits every type of frame. Your dog will sit comfortably in the seat while the safety leash is secured from four corners to make the ride safe for your pet. The seat and receiver post are mounted with ease in just 5 minutes and you're all set up. The seat can be dismounted from the receiver and layed on the ground so that your dog can get familiar and used with the seat. When your furry friend is ready, just mount the seat on the receiver and begin your journey together!
---
---
Visit Our Store!
Pets are welcome to visit our store and to get familiar to the Buddyrider Bicycle Pet Seat.
If you have any questions about the product and how to use it, please don't hesitate to ask!