Do you have a flat tire with your electric kick scooter? We can fix it!
(Notice: we only do scooters of the brand Xiaomi, such as the Xiaomi M365, M365 Pro, Mijia and Mi)
We usually have tubes, tires and solid rubber tires in stock, but feel free to bring your own if you have.
Tip
Remember to check air pressure in your tires once a month, and make sure to have around 4 bar! Most punctures with the Xiaomi M365 e-scooter are caused by riding with too low pressure. We have an adapter for sale which makes it easy to pump your tires.
Price list
Rear tire change: 55€
Front tire change: 60€
Front and rear tire change together: 110€
Now same price for replacing solid rubber tires and air tires (with tube)!

Inner tube Xiaomi M365: 12€
Outer tire Xiaomi M365: 23€
Solid rubber tire Xiaomi M365: 30€
The prices of tire replacement do not include the tires. For example if we replace both tires with a solid rubber tires, total price is 110 + 2×30 =170€.
Book your repair online
Book your repair easily here: vello.fi/luckybirdbikes . Of course you can also call us, on 050 4622 476. Please notice that the exact time of your booking in the system doesn't matter. We fix your scooter on the day you have booked, but not necessarily exactly that time. Often we can do it within one hour, if you wish (and if you bring it before 3pm).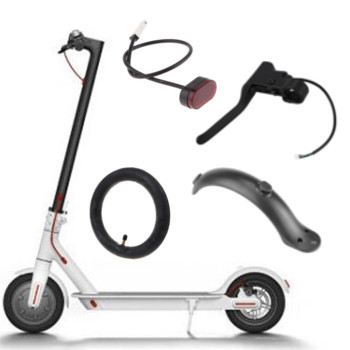 Xiaomi varaosat
Xiaomi sähköpotkulaudat varaosat esim. renkaat, seisontatuet. lukot ja valot.
Xiaomi e-scooters spare parts such as tires, locks and lights.
Below an instructional video if you want to replace your Xiaomi tires at home. We have a lot of respect for those who try it, but we only recommend it if you are prepared to offer blood, sweat and tears 😉
If you are living in Turku area, we recommend contacting www.sahkopotkulaudat.fi .